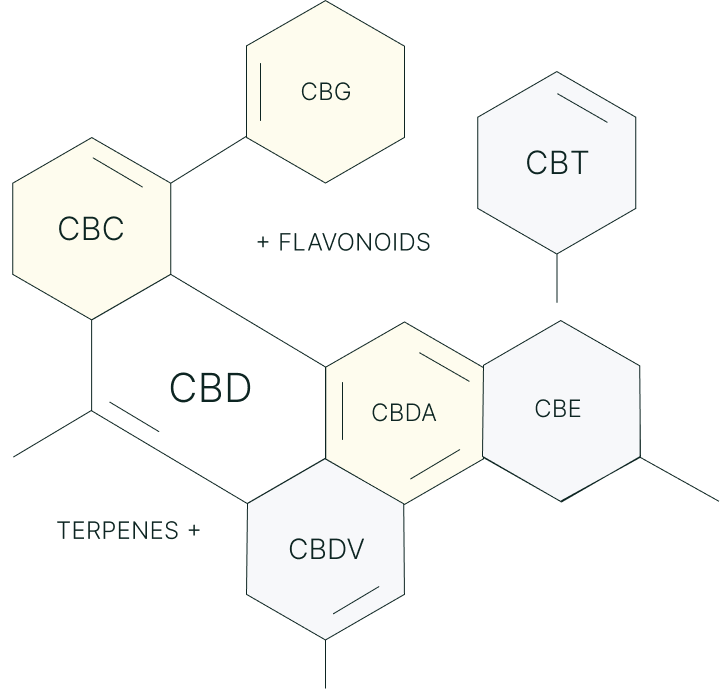 Revolutionizing Cannabis Manufacturing: Arvanna's Next-Generation Approach
Arvanna spearheads the new era of cannabis processing with our unrivaled proprietary method. Our cutting-edge process ensures the absence of impurities, toxic solvents, or undesirable flavors while preserving a higher cannabinoid content and retaining precious terpenes.
As high as 25 Active Cannabinoids vs. 11-18 in Conventional Distillates
As high as 5x More Minor Cannabinoids
Organic Principles and No Synthetic Cannabinoids
Naturally Retained Terpenes
Astonishing natural floral scent without any hempy or bad smell
Capability of <0.001% THC in our Broad Spectrum, far below "Non-Detect" levels
Arvanna Flavian Oil™ & Florian Oil™ vs. Conventional Distillates
Arvanna's unparalleled oil quality and successful partnerships with the top CBD brands in the industry are a testament to its leading position in the market.
Elevating Cannabis Manufacturing with Next-Level Purification
We unlock the full potential of hemp through the use of pharmaceutical separation technology, which allows us to preserve essential plant compounds such as terpenes and flavonoids. Our rigorous in-house analytical testing ensures that our products meet our strict criteria for quality, while eliminating any contaminants or unwanted oils. This results in a hemp extract that retains the vital compounds found in the plant.
Arvanna
Other Manufacturers

Hemp trim from specific genetic strains

Use any plant trim

Extraction

Extraction

Winterization

Filtration & Dewaxing

Decarboxylation

7+ Purification Steps with 2 Proprietary Processes

Solvents

Unwanted Oils

Pesticides

Heavy Metals

Microbials

Mycotoxins

Minor Cannabinoids

Cannabinoids

Terpenes

Flavonoids

Natural plant oils

Distillation

Solvents

Pesticides

Heavy Metals

Microbials

Mycotoxins

Minor Cannabinoids

Terpenes

Flavonoids

Traces of above contaminants

Unwanted Oils

Cannabinoids

Natural plant oils

Product formulation

Product formulation
Let's Work together
Interested in Partnering?
The team at Arvanna is delighted & excited to answer any questions you may have. Please don't hesitate to contact us. You may also visit our Private Label page to get more information.